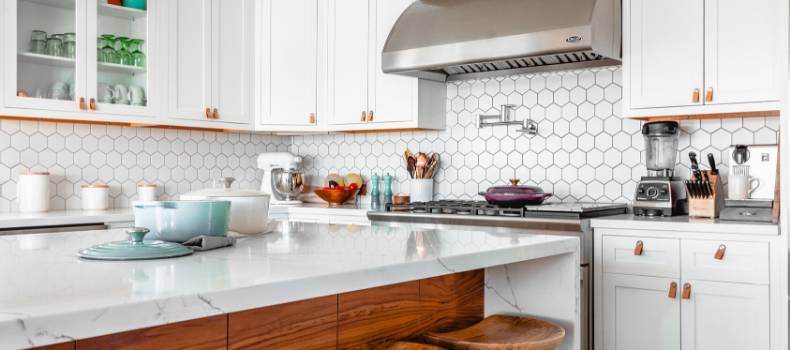 Whether you're making improvements to sell or to increase the equity you have in your home the goal is to enhance its value by more than the actual cost of the changes. It's easy to get carried away with renovations, but you need to be careful not to over capitalise or over-improve your home.
Improvements should be in keeping with the house and the character and value of the neighbourhood. Choosing the right improvements to get a return on your investment requires an understanding of your local market. Think about what buyers would expect. For example, don't put a hand built wood kitchen in a 1900's house if the area expects a modernised renovation.
Here are 8 ways to add value to your home.
1. improve Street Appeal
You only get one chance to make a first impression – right? Improving the street appeal of your home can add value.
Make sure your garden is neat and tidy and with gates and fences are in good repair. Choose plants that are climate appropriate and easy to maintain so that it's easy to keep them looking smart.
If your home is looking a bit worse for wear, repainting the exterior will bring it back to life. As well as adding value by improving the street appeal, it will also help maintain its value by reducing weather damage. Updating your front door or painting it a vibrant colour can also be a simple and inexpensive way to spruce up the entry.
2. Attend to repairs
Attending to minor repairs is a quick and easy way to lift your home's value. Pay attention to things like cracked steps, a loose doorbell. While these may be minor repairs and cheap to fix, a home that needs a raft of small fixes will look run down and badly maintained, which will affect its value. A poorly maintained home will also put buyers off if you're thinking of selling.
3. create An Outdoor Entertainment Area
Creating a defined outdoor entertaining space is a great way to add value. If you have space, consider a deck (or similar) ideally adjacent an indoor living area to extend your home's living space and create that much loved indoor-outdoor flow.
If neighbours overlook your back garden, aim to screen it from view as much as possible. Lack of privacy can detract from the comfort and value of your home.
Consider the demographics of the area when determining the outdoor improvements that will add value to your home. Are you in an area popular with young families that might appreciate a lawn for kids to play on? Are most people in your area young busy urbanites that may put more value on a low maintenance hard landscaped courtyard? A high maintenance garden may look beautiful, but if it's not what your market wants, it won't add value. Have this in mind when you're designing your outdoor area.
4. update the Kitchen
Whether you call your kitchen the heart of your home or the engine room – it's where everyone gravitates. Kitchens can make or break a house sale!
Updating a kitchen to add value could range from a simple refresh to a full-scale rebuild. If your kitchen already has a good layout, and the cabinets are sound, you may be able to add value by just updating the door fronts, handles and appliances. Or you may consider opening up an older style separate kitchen to create an open dining/living area by knocking down a wall.
The extent and cost of kitchen renovations needed to add value to your home will depend on the expectations of people buying in the area. For example, it is not likely that you'll get a better return on investment by adding a top of the range handmade designer kitchen if your market is predominantly first home buyers or investors. Sure, they'll love it, but they won't pay you for it. Conversely, if you're in an area where the expectation is for a high end product, you probably won't do yourself any favours by adding an off the rack, cheap and cheerful kitchen with generic appliances.
Make sure your kitchen updates are of the quality relevant to your market, won't date quickly and will appeal to the majority.
5. Update / add a Bathroom
Similar to kitchens, a great bathroom can really make a difference to the value of your property.
If your bathroom is outdated, consider renovation. If a full bathroom renovation isn't warranted, there are also simple upgrades that can add value. For example, you can refresh a bathroom by replacing frosted glass screens with clear glass, replacing old mirrors, cleaning the grout and replacing tapware and door handles. You can even respray tiles and fixtures.
Consider if the number of bathrooms is appropriate for the size of the house. If you have a 4brm house and only one bathroom think about adding a bathroom if possible. These days the expectation is for family homes to have more than one bathroom.
6. add a Bedroom
Adding a bedroom may add value to your home. For example, if you have an original 2 bedroom cottage close to the city in an area that's now in high demand from families, it may be worth adding a bedroom or two.
If you can't expand out, think about a loft or basement conversion, or maybe there's space above a garage. However, don't compromise space in living areas to add a bedroom unless it is surplus to need – otherwise your efforts could be counterproductive. Very few people would want a 4 bedroom home with a postage stamp sized living room!
It's important to research and compare the value of homes in your area that have the same number of bedrooms as you currently have against those that have additional bedrooms to make sure your investment will be returned.
7. modernise Flooring
Flooring is such a prominent element of any home and can set the tone – for good or bad. Replacing floors that have passed their use by date will make your home look clean and modern.
If you have different flooring materials in different areas (for example tiles in bathrooms and wood in living areas), choose carefully, so the overall look appears consistent and creates a harmonious appearance.
If the cost of replacing flooring isn't warranted, refresh by deep cleaning carpets and tile grout. And have a look under old carpets, you may unearth an original wood floor gem!
8. Paint!
Painting tired walls is a relatively cheap way to change the appearance of your home, and results can be dramatic. A new paint job will make your home look refreshed and modern (especially if you currently have garish colours or paint effects left over from the 1990's).
Make sure you get the colours right. It's best to stick with colours that have universal appeal. Or use a colour consultant if you'd like to take a bolder approach.