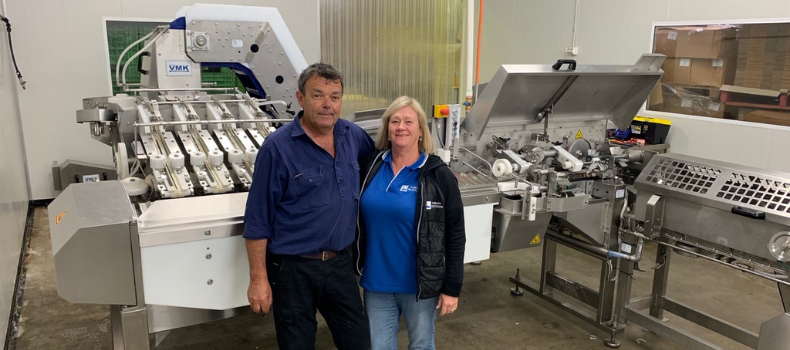 There will probably come a time when you need to purchase new equipment for your business. Rather than dip into precious cash to buy it, using a chattel mortgage may be a much better option. This case study demonstrates how a chattel mortgage can work to your best advantage.
Albany Seafoods Case Study
Background
Albany Seafoods catches and processes sardines which go into the amateur bait market throughout Australia. They have also been selling whole frozen sardines into the food market throughout Australia for many years and have been asked on many occasions why they don't fillet them. So, with their current equipment becoming outdated they felt it was the right time to upgrade and purchase a fish filleting machine.
The Issue
Albany Seafoods needed to use most of their overdraft limit of $400,000 to pay cash to import a new fish filleting machine from Sweden. Delivery time to Australia was three months. They then wanted to 'replace' this money back into their account and reduce the overdraft by financing the purchased machine.
Craig's Equipment Finance Solution
Before the equipment was purchased, Westminster National Finance broker Craig Smithers negotiated a pre-approval on the equipment as a sale and finance back.
As Albany Seafoods had purchased and owned the machine, once it arrived in Australia they could then finance this asset. Using the imported machine as security, the finance company reimbursed Albany Seafoods the cost price.
Albany Seafoods used these funds to clear their overdraft, freeing up cash flow, and is now paying off the machine as a chattel mortgage over 60 months.
The Outcome
Albany Seafoods was able to negotiate the best possible cash purchase price with the Swedish supplier knowing it had pre-approval and could clear their overdraft once the machine arrived in Australia. They only paid interest on the overdraft while funds were outstanding for 3 months. This was cheaper than an alternative of an overseas letter of credit which would have had set-up fees of $4,800.
With the overdraft now cleared, it has given Albany Seafoods cashflow certainty going forward. Another benefit of using a chattel mortgage over 60 months (nil balloon) was that the GST, interest and depreciation could be claimed back.
Benefits of Using a Chattel Mortgage for Equipment Finance
A chattel mortgage is a commercial finance product often used by small business owners who don't want to use capital to fund equipment purchases. Some of the benefits of a chattel mortgage include:
100% of the loan may be financed, so there is no upfront deposit.
Lower interest rate compared to unsecured loans.
Flexibility around repayments if you have seasonal cash flow:
– Rather than a regular weekly or monthly payment, you can make a larger payment when your cash comes in.
– You can choose to set up a balloon payment at the end if you want to lower your monthly payments.
Claim back GST and tax on depreciation and interest.
How a Broker Can Help With Equipment Finance
A broker experienced in equipment finance can work on your behalf to set up a chattel mortgage with a finance company. They can also shop around so you can compare lenders and get the best interest rates, and terms and conditions for your situation. If there are any extra fees or charges they can make you aware of them, especially if you plan to pay off the loan early.
If you'd like to find out more about how a broker can assist in securing finance for your next equipment purchase please get in touch with us today.