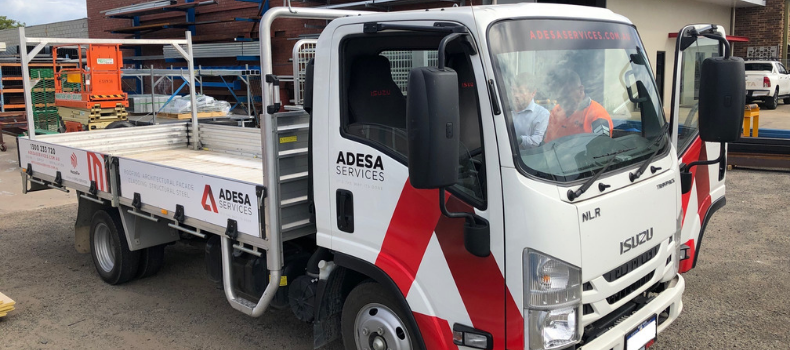 A popular form of car finance is a chattel mortgage, similar to a secured car loan but for business vehicles. Recently, Westminster National broker Ryan Tripi achieved an exceptional outcome for his client Adesa Services by assisting them to finance a vehicle purchase with a chattel mortgage.
Adesa Services Case Study
Background:
Long term clients of Ryan Tripi's, Adesa Services is a dynamic and diversified business established in 2007 providing superior service to the construction industry within Australia. The business services; roofing, architectural cladding, mezzanine flooring, office construction, steel fabrication and rigging.
When Adesa recently needed to buy a ute to replace an ageing vehicle, they decided to attend a vehicle auction to secure the vehicle they needed at a good price.
Adesa purchased a 2017 Isuzu ute at auction with cash and engaged Ryan to assist with reimbursing the business by financing the purchased vehicle. Financing a purchased asset is a great way to access auction houses and private sales, which can often offer good deals on equipment but require a cash sale, without tieing up cashflow for long periods of time.
Ryan obtained approval to finance the vehicle in 24 hours with a chattel mortgage. However, auction houses and private sales can also come with some additional risk and upon doing necessary checks on the ute, Ryan uncovered the vehicle was sold by the auction house with an encumbrance.
Outcome:
Settlement of the finance deal was conditional upon the removal of the encumbrance from the vehicle. So, Ryan assisted by engaging the auction house to remove the encumbrance (which shouldn't have been present on the ute when the vehicle was initially sold to Adesa).
If the client bought the vehicle without a brokers assistance they may not have known they had an encumbered vehicle or how to go about removing the encumbrance.
The team at Adesa really appreciated Ryan's extra efforts and his time spent dealing with the auction house.
Obtaining car finance doesn't need to be stressful. A broker will help you arrange finance and do all the necessary checks so you know the vehicle you're purchasing is above board.
How a Broker Can Help With Vehicle Financing
A broker experienced in car and equipment finance is the ideal person to have in your corner. They can help:
Research the best car finance options for you so you can compare lenders.
Make you aware of extra fees and charges, especially if you intend to pay back the loan early.
Determine how much your monthly repayments will be to help you determine if the loan is affordable.
Advise whether a fixed rate or variable interest rate loan will be the best option for you.
Getting a broker to help you finance your vehicle has a number of benefits:
Helps with cash flow – by preserving working capital rather than tieing it up in equipment.
Provides accounting benefits such as interest deductions and depreciation.
Mandatory checks and searches on vehicles are conducted (i.e. PPSR searches which checks encumbrances and vehicle write-offs).
Who is a Chattel Mortgage Good For?
If you are registered for GST then a chattel mortgage may be a good option for car finance. The GST from the vehicle's purchase price can be claimed as an input tax credit on your Business Activity Statement (BAS). You can also claim depreciation and loan interest as a tax deduction.
How it works is that a finance company lends you the money to purchase a vehicle, then you make set repayments, typically on a monthly basis, to repay the 'mortgage'. The benefit of a chattel mortgage is that you can take possession of the vehicle immediately and you own it.
The mortgage on the vehicle will only be cleared when you have repaid the loan in full. However, if you fail to make repayments, the finance company can repossess the vehicle.
If you'd like to find out more about how a broker can assist in securing finance for your next vehicle purchase please get in touch with us today.