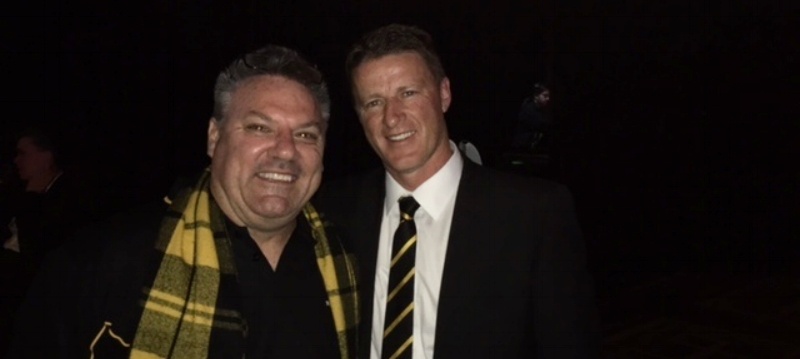 Craig Smithers is one of our hardworking Finance Brokers here at Westminster National. Not just a broker, but a Richmond Tigers supporter for the ages.
Craig recently had the privilege of presenting his client Ben Ritchie with an 18-year old bottle of Penfolds' Grange. Ben was the winner of our recent AFL Finals Footy Challenge and was absolutely thrilled at his win after tipping the Tigers to win by 23 points. Watch him receive his great prize from Craig here.
Not only did Craig get to share this moment with Ben, but he also had his own once in a lifetime AFL experience this year. Have a look at his pretty amazing GF journey below.
A Richmond Tigers supporter for 42 years, and a Gold Member, Craig travels interstate to 5 or 6 games every year. But is there any better game to be at than your own team in a premiership game?
Craig was at the MCG for the qualifying final, the preliminary final, and best of all, he was there for the main event. Taking your annual leave to watch your team win the AFL Grand Final seems like a worthy cause to us!
Closed Training Session
Before the main event Craig was thrilled to attend by invitation Thursday's closed training and the morning tea with Brendon Gale at Punt Road, Richmond. And the perks just kept on coming. An interview and his photograph made it onto the Herald Sun's video blog on interstate and overseas supporters that travel to see the Tigers!
Grand Final Parade & dinner
Friday was all about the grand final parade with a spontaneous radio interview with Triple M, followed by the pre-grand final dinner filled with good food, good drink, and a great atmosphere charged with excited anticipation.
The Main Event
Then the game itself. An unmatchable moment for a dedicated Richmond supporter like Craig to be able to watch his team not just win the GF, but win so soundly. And if the thrill of that wasn't enough to make the day, he was invited to the grand final players, coaches, and staff function at the Crown Palladium after the game ended. The icing on the cake of a perfect day.
Family fun day & Fairest and Best Awards
Sunday was all about the family at the Richmond Family Fun Day at Punt Road, and then that evening was Craig's last night out at the Jack Dyer Medal Night for Fairest and Best Awards at the Crown Palladium.
There's not much left to do after all that except take it all in, revel in the win that was 37 years in the making, and fly back home. Craig says he went home tired, but happy, proud, and with a smile on his face.